Starmix Dust Collector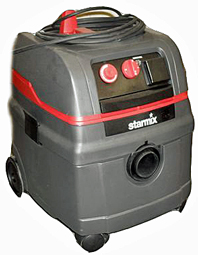 If you looking for a transportable dust collector and do not wish to connect the BMI panel saw to your permanent dust extraction equipment, the Starmix dust collector is the perfect choice.

The Starmix is a good quality, reliable and portable industrial vacuum cleaner, which meets your requirements.

It has a 50 liter tank and is supplied with 5 meter hose for easy connection to the saw. The Starmix dust collector runs single phase 230 v, and you can place it behind the BMI Panel Saw.